(See also: Website Thumbnail Preview : Floating Link Preview)
Welcome to Link Preview ! ! !

What is Link Preview?
Daily when you are surfing the web, you find lot of links on your favorite search engines and web directories. Then you try some of these links by reading the title or description about the link.
Here comes the role of Link Preview to help you find what you want in faster and cooler way.
Link Preview is a tool / utility which adds thumbnail picture preview of the web page related to the links on any web page. Link Preview is absolutely Free.

ScreenShots:
Bellow are the screen shots of some websites showing how the thumbnail previews will be displayed before the link with the use of Link Preview. The thumbnail images are from thumbshots.

Example 1:

Example 2: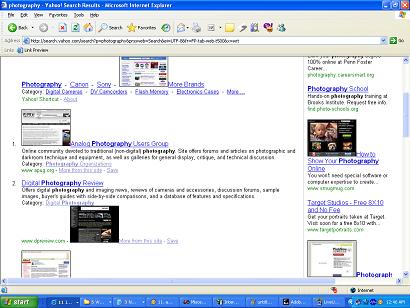 Demo:
Consider a web page is having list of links like bellow:

Yahoo Google

Wikipedia MSN

Myspace EBay

Click Here -> Link Preview and see the result.!!!

Get It Now:
Now the next question in your mind will be- where to download an how to install Link Preview?
Surprisingly the answer is:
You need not to download or install any software for this; you just have to add the following link to the favorites links (Bookmarks) of you browser.
(Use link preview only if you agree and accept Terms of Use and Privacy Policy ):
Add this Link to your Browser -> Link Preview

To Add the above mentioned ink to Links Bar of your browser, follow the instructions bellow
( Its Very Simple ).

1. For IE (Microsoft Internet Explorer): "Right Click" the above Link >> Click
"Add to Favorites..." >> select "Links" >> say "OK".

2. For Mozilla-FireFox or Opera, just Drag the above Link to the Links Bar in your Browser.
After adding the link to your browser, the link will appear link this :

In Microsoft Internet Explorer: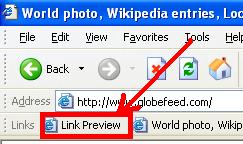 In Mozilla Firefox: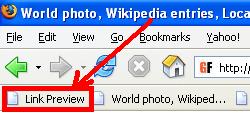 In Opera: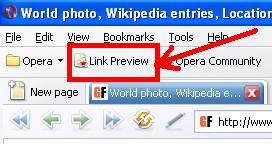 After adding the link as Bookmark, Go to your favorite search engine or web directory, and search for your favorite subject. When result is displayed on the page, click the Link Preview bookmark and see the cool result. Link Preview is not only for search engines or web directory but it can be used on any web page.

3. If you have Greasemonkey installed on you Firfox browser,





Get GreaseMonkey User Script for Link Preview Here

Features:
1. Displays thumbnail preview of the web page related to the links on any web site.
2. Link Preview is not specific to a particular web site. It can be used on any web page having links on it.
3. No installation required, just add the Link Preview bookmark to your browser.
4. Cross Browser compatible, we have tested it on IE-6 ,Mozilla- Firefox 1.5, Opera-8.54 on Windows.
5. The thumbnail images found for the exact url will be displayed with blue border while other with black border.

Notes:
1. After clicking the Link Preview bookmark, an information box from globefeed.com will be displayed in bottom right corner along with the thumbnail images.
2. To remove the preview images displayed, you have to refresh the page.
3. Since Link Preview is very generic tool, you may get some bugs. We will be thankful to you if you report bugs to us.
4.Currently the tool gets refreshed daily once. We will keep updating the tool if it is necessary. If Link Preview is required to be added again, we will display such message on Link Preview.
5. We may display advertisements along with Link Preview in future if required.
6. All the thumbnail images may not be accurate or they may be unrelated to the links because it is difficult to find out the where exactly the link is redirecting.
7. Thumbnails for all the links may not get resolved and displayed. Only available thumbnails will be displayed.
8. The alignment of the Web Page on which you are using Link Preview may get disturbed since the thumbnail images are added before the links.
9. No client information is logged when you use this tool - We totally respect your privacy.
---
Our online utilities also include following metric conversion calculators:
Weight Conversion
Area Conversion
Temperature Conversion
Volume Conversion
Length Conversion